Interestment's Top Four: Men's Shoes
Not including these Winkle Pickers…
Men have an interesting relationship with shoes. As children, they're a nightmare. The early years find girlish sandals ranking highly amongst little boys, which unfortunately can't be carried into adult life. The teenage years are defined by sneakers, most male closets crammed with at least eight sets of Nikes, Adidas, Converse – or Travel Fox for ravers – with a sole set of clunking great leather shoes for weddings, funerals, or job interviews. The only things that can compliment the enormously oversized suit you reluctantly picked out at Debenhams. And then, at around 20-something, the impossible happens, and shoes – actual shoes – become an attractive option. Not just for funerals, but for socialising and looking cool too. We have long since had a wonderful obsession with different makes of shoes, so coming up with a top four was a painful and upsetting process. Still, we managed it, and these four delights made the cut…
[ad#Adsense Fashion]
1. Clarks Wallabees
The greatest my-first-shoe for addicted trainer wearers, these are just as comfortable as a smooth set of sneaks, and yet they look magnificently smart and stylish. History bods insist that they were first designed in the 1960s, and were intended to be the planet's first "comfort shoe". And they have yet to be bettered. Over the years we must have bought at least fifteen pairs, which come in a clever variety of colours and a choice of leather or suede. They have the added benefit of being popular in the hardcore rap world, where Ghostface Killah is a big fan.
2. Chelsea Boots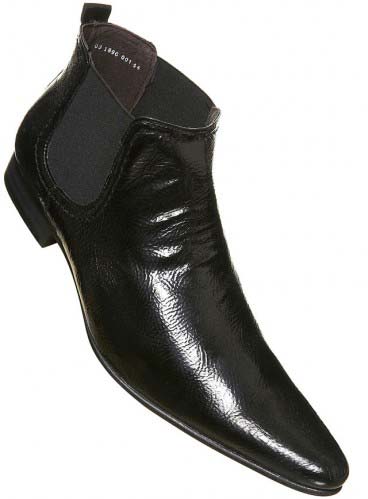 An absolute gem, and futuristic in their day, with the stretchy elastic bit that meant that they were easy to slip on and off. Nothing had been seen like it before. These were originally horse riding shoes in the Victorian era, before the mods got hold of them in the 1960s, and they became cooler than having a five bob note in your whistle, and a couple of Woodbines in your purse. Still look great today.
3. Clarks Desert Boots
Another big hit from the people of Clarks, and the perfect Autumnal shoe. These first came to the fore in 1950, when a man called Nathan Clark modeled a zany new ankle high "boot" on the footwear ordered by British Army officers working out in the deserts of Cairo. Since then, they've been a staple amongst all of the hippest fashion types, and are very popular in Jamaica, particularly amongst Reggae bands.
4. Brogues
The most overtly smart of today's shoes, these would set off a suit at any number of functions, and if you wore them to a job interview, you'd have it in the bag the moment your first foot crept nervously through the door. A low-heeled heavy leather concoction, with impressive brogueing – ie. punched patterns – you can thank our Scottish and Irish cousins for these ones. Very very stylish, they just keep out deck shoes, which are very "in" at the moment, so they say.